Available for work in Colorado and Coast to Coast — It all starts with a simple phone call.
1-866-759-7732
School renovation includes skylighted full sized gym and rooftop greenhouse.
Just three blocks from Central Park: Smack in the middle of the Upper East Side of Manhattan is the prestigious Allen Stevenson School for Boys. This private school for boys grades K through 9 opened in 1883 and resides near the corner of 138th and Lexington in New York City, NY.
Of the many impressive improvements the school is undertaking besides a new full sized gym and rooftop greenhouse; Skylight Specialists, Inc. will be installing a newly designed saddle ridge skylight over 100 feet from street level.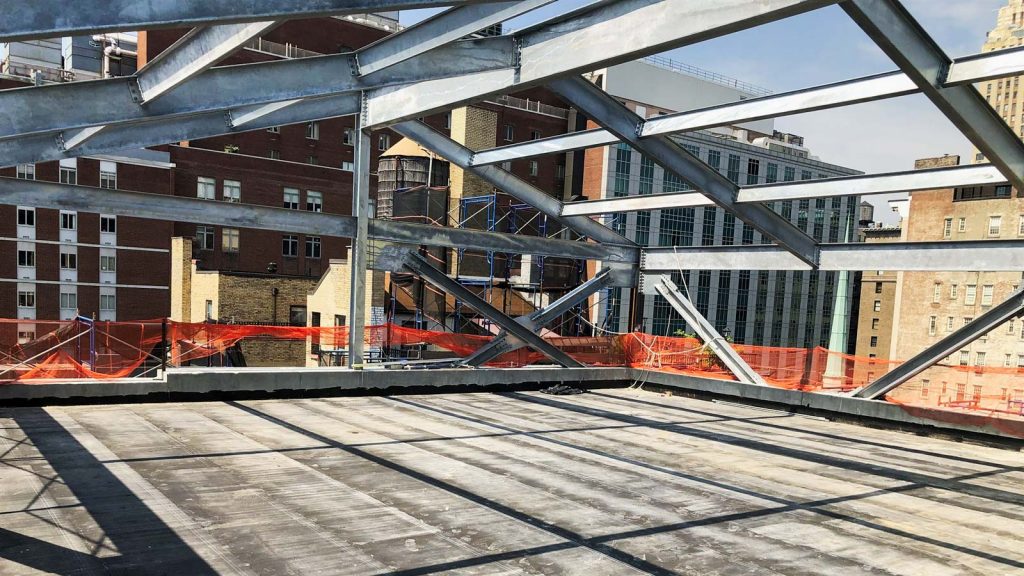 This beautiful skylight is manufactured by Kingspan Light & Air and will span 51 feet wide by 51 feet long. The glazing is 12mm Pentaglas and will be the translucent ceiling for a spacious new rooftop Playspace that will include synthetic turf.
Installation of the skylight will be one of the last elements to the entire school renovation. We anticipate the work to be completed before 2021.
The Issues:
This installation of this new skylight will have a few different logistics to work through to keep the project running smoothly. Craning our materials and the scaffolding to the rooftop will require street closures and crane permits. Managing the logistics of a lift of this magnitude in the middle of New York City will be challenging, but exciting as well!
Skylight Specialists, Inc. will also have limited space around the outside of the skylight to perform our installation. Scaffolding will need to be erected is a unique way to provide our experienced crew with the correct means to install the skylight efficiently.
Moving forward:
The lift is completed:
Framework is next:
Installing gutters:
Gutters are usually one of the last items to be installed. With this project, access to the roof edges is only possible using scaffolding placed on the roof itself.
Installing panels:
Snow guards on skylights are devices that allow snow and ice to drop off in small amounts or allow snow and ice to melt completely before falling to the ground. They can prevent the sudden release of snow and ice from a roof—known as a roof avalanche.
Product Used: