Available for work in Colorado and coast to coast — It all starts with a simple phone call.
1-866-759-7732
What's the Difference?
The difference between a skylight retrofit and a skylight replacement is similar to the difference in restoring your 20 year old car to like new condition or trading it in on a brand new model.
That restored beauty looks and runs pretty good!
For a 20 year old vehicle.
And at a significant chunk of the cost of a new vehicle.
That new vehicle has newer technology.
It's sleek and modern looking.
It has high tech features, rides smoother and has a significantly lower operating cost.
What's the answer?
Retrofit
Falling between repair and replacement in cost and benefits, one solution is to "re-skin" the existing structure—in effect supplying a new glazing system, with most of it's benefits, over the top of your existing structure.
This solution can produce great long-term results that don't bust the budget.
Replacement
However, just like with a new car, if your budget will allow you to replace the skylight, it's performance and functionality can be dramatically improved.
Benefits of both can include:
Improved light quality.
Better control of heat gain/loss.
Savings from virtually maintenance-free exteriors.
Bryant University Dome Skylight Retrofit
1150 Douglas Turnpike
Smithfield, RI 02917
Problems:
The acrylic glazing, installed in 1971, showed signs of aging—crazing, gasket failure, reduced heat blockage, etc.
Multiple and unsuccessful repairs had been made by roofers to try to stop water penetration by applying EPDM material over the glazing caps.
The acrylic has become weak and can no longer support weight due to wind and/or snow loads. Domes are either breaking from snow load or the dome is being forced inwards instead of arching out.
On this project the replacement option was not viable after engineers determined that the building would not meet current seismic codes without alterations to the structure.
The same engineers certified that the existing structure was adequate in holding the additional weight needed for the "re-skin" using our own MAGS BAR glazing system.
Solutions:
We supplied and installed 140 acrylic domes (with a much higher rise for increased wind/snow loads) that were inserted into our own MAGS BAR Retrofit System.
We raised the curb of the apex skylight and flashed it properly
We repaired the ladder system to its original state along with improvements to provide a better long term solution.
We improved the original sill structure by adding brackets fastened to the concrete curb.
We added sill flashing that would drain water onto the roof from the skylight and allowed for better access when the roof was replaced in the future
La Mer Condominiums — Skylight Replacement
4051 Gulf Shore Blvd N
Naples, FL 34103
Problems:
La Mer Condominiums is a 17 story condominium complex with a 4500 square foot skylight capping an atrium. The managers contacted us seeking solutions. Their building sits directly on the coast and the salt, climate, leaks, poor maintenance and time had played their role in aging and creating several issues.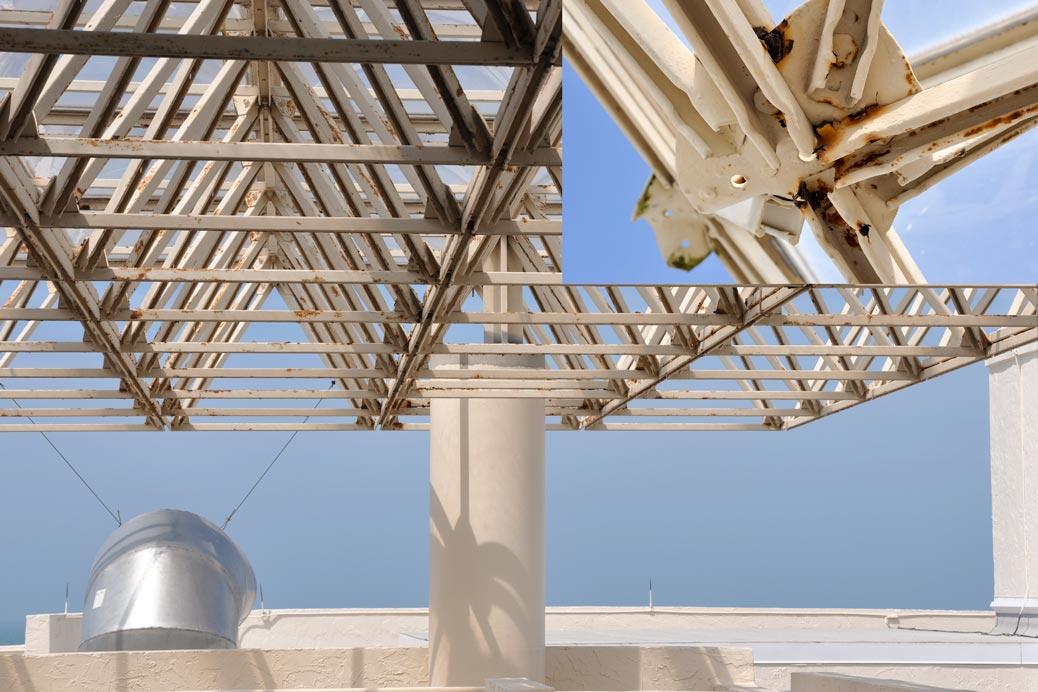 The so-called skylights were leaking and the steel structure under the skylights was rusted and losing its structural integrity. The choice between repairing the existing skylight and installing a replacement was complex and included some special challenges:
Repairing or replacing the skylight and structural steel of an atrium 17 stories above the ground floor.
A scaffolding tower was cost-prohibitive and offensive to prospective tenants.
Maintaining access to the building while the work was being done.
Keeping the homeowners safe and protected from weather during construction.
Solutions: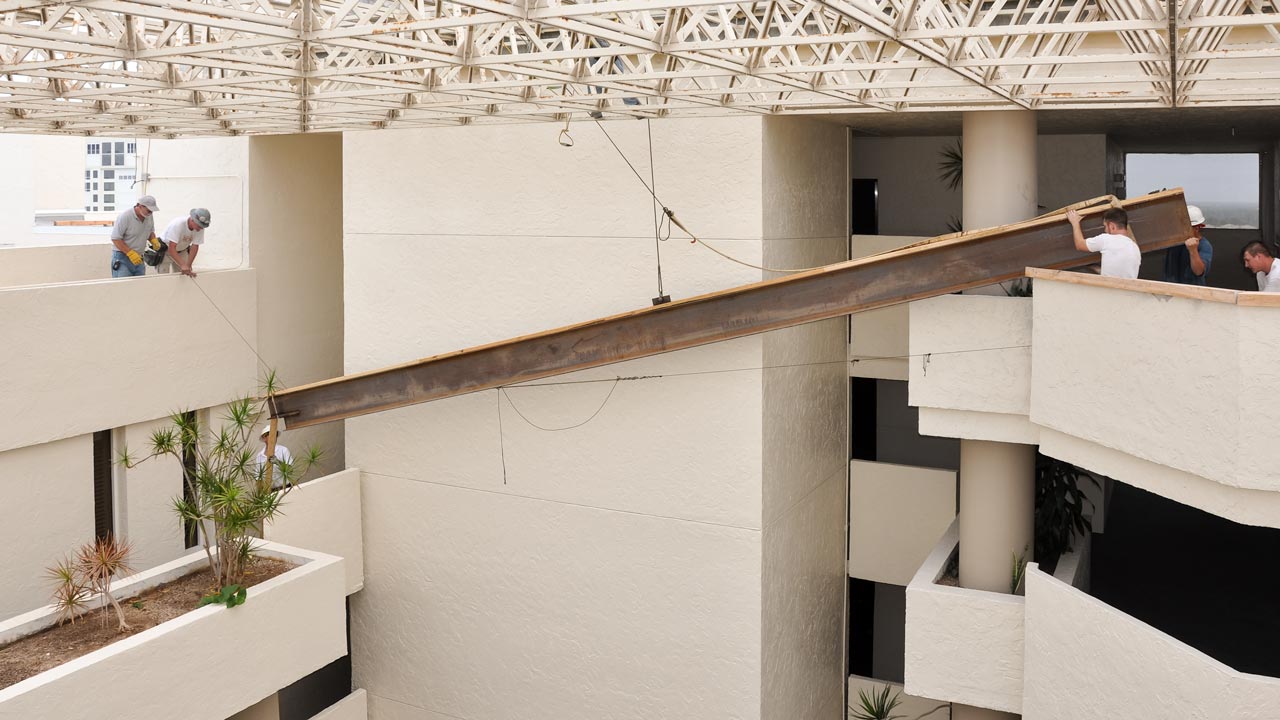 Prior to securing a contract, we visited this site several times in order to address all the problems that needed to be solved concerning repairing the existing steel frame or replacing it with a new aluminum frame. We offered both solutions to the managers who ultimately chose to replace.

We engineered a 40 foot long 18 inch I-beam, lowered it through the existing skylight and bolted it in place. We could then construct a temporary floor around the perimeter of the atrium—with safety netting and plastic covering the opening—to allow sunlight to penetrate while we did our job.
Our solution was creative and saved the owner tens of thousands of dollars.
We removed the steel structure and prepared the existing building for the aluminum frame anchors.
We anchored the new structure in place and installed the new canopy skylight and removed the temporary platform all in record time, under budget and under the quoted schedule.
Conservatek Omni-Hub Space Frame System, Bone White.
CPI Daylighting clear 4mil solid polycarbonate U-Lite Canopy (Largest U-Lite Installation in the Country).
Detailed information on all MAGS BAR projects on our site.
Retrofits