While not a complete list of all our projects, our Featured Projects list is approaching 300 published projects of all types and sizes!
Free phone consultation to discuss options. 1-866-759-7732
Projects by Status
Projects by Type
Featured Projects
There are beautiful stained glass globes that hang beneath these skylights that "glow" from the natural daylight. Very nice and elegant design.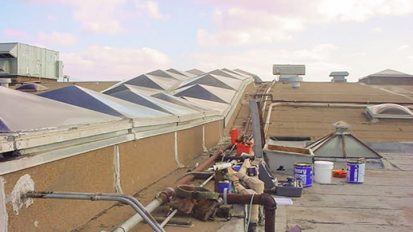 Monterey County Department of Social Services couldn't stand to have leaking skylights any longer. Their ultimatum to the owner was…
When the school board decided to remodel its Art Department, one of its goals was to improve the quality of light in the classrooms by adding skylights.