Available for work in Colorado and Coast to Coast — It all starts with a simple phone call.
1-866-759-7732
Two Hundred Forty Nine Skylights Replaced in Two Days.
The Lincoln School of Technology moved into a former Samsonite warehouse, a 212,000-square-foot facility in northeast Denver, in June, 2011. We were contacted to see what we could do about their problem skylights. After our initial evaluation, Skylight Specialists, Inc. was asked to do a complete skylight replacement.
The skylight installation:
The skylights we chose to use are Velux LuxGuard Dynamic Domes, a sophisticated polycarbonate, double glazed unit with a number of advantages.
100 percent thermally broken (the frame is the thermal break).
Harvests more sunlight during low-light periods (morning and evening).
A fail-safe proprietary wicking system that evacuates condensation to the exterior.
Reduced freight costs due to the compact nesting nature.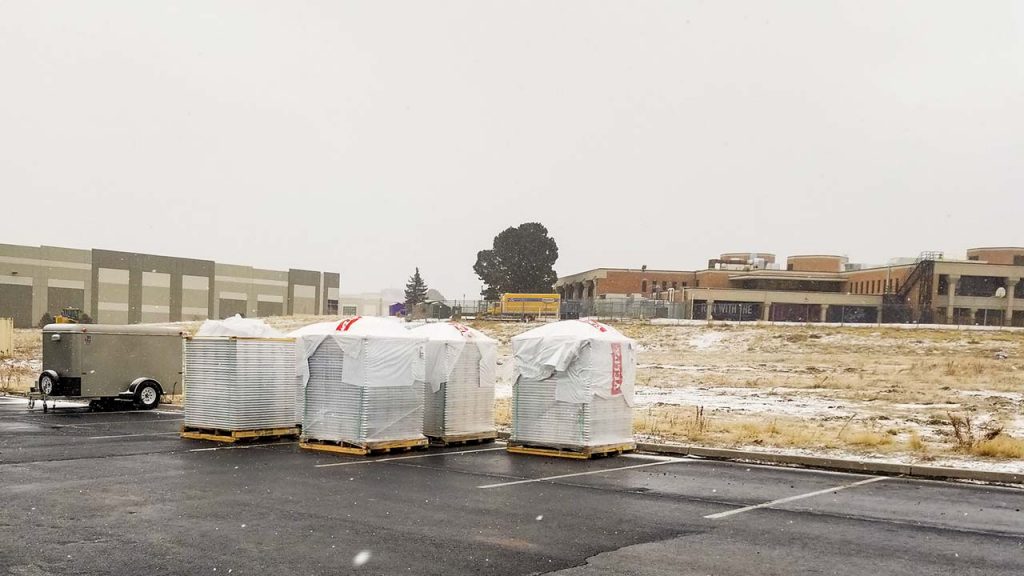 Not only does the nesting nature of the domes save on freight costs, it also means less time spent unloading the domes and moving them up to the roof.
Day one:
The commercial team met onsite at 7am and began forking skylights up and spreading them out. With snow on roofs, we were able to bring techs from our residential team and after a safety meeting, they were able to join in. We then began popping off old sky lights and replacing new ones. About 1/3 of the skylights were completely installed by 12pm. Running out of screws, it was decided to only tack down the corners and finished tacking down the remaining skylights by 2:30pm.
An hour was spent forking down the old skylights/trash and loading onto the flatbed which was then sent back to the shop. Great teamwork by both the commercial and residential teams today.
Day two:
Box truck was picked up from the shop along with 2 boxes of additional skylight screws. Everyone met at 8am onsite. Three techs started loading old skylights into the box truck via forklift, the remaining three started securing all the remaining skylights. Three trucks were loaded with trash and left by noon. All remaining skylights were securied by 2pm.
The project was walked with Gary B. to ensure everything looked good and was cleaned off. He was very pleased with our production and professionalism.
Product Used:
(249) 48" x 48" VELUX CD2_4848_3P1C2M LuxGuard Dynamic Dome Skylights.
Clear polycarbonate over white prismatic polycarbonate with mill finish frame.