A Revolution in Commercial Skylights
VELUX has just revolutionized the commercial skylight market with the introduction of the new VELUX Dynamic Dome. An innovative product that balances the structural demands of industry professionals with an architecturally progressive design.
What makes the VELUX Dynamic Dome so revolutionary?
Improved Frame Design
50-year Silicone.
Glazing Spacer:
Reduces noises associated with expansion and contraction.
Condensation release.
Inner Dome:
Rests on material with similar expansion/contraction—durability.
Inner Frame:
Innovative, encapsulating one-piece thermoplastic.
Dry installation (no caulk or curb tape needed).
Impenetrable water barrier.
No exposed holes to the exterior — no air/water/bug infiltration.
100 percent thermally broken (the frame is the thermal break).
Fail-safe extra layer of water protection — no path for water to enter the building.
Mill finish or powder coated neutral grey.
The Benefits of Dynamic Dome Skylights
15-year WARRANTY on LuxGuard options. Including breakage (hail breakage up to 2" in diameter).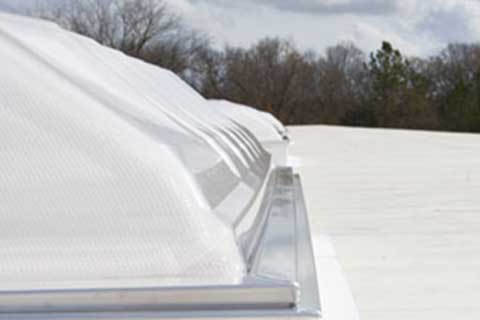 Light Harvesting
The sidewall of the VELUX Dynamic Dome has been engineered to harvest more sunlight during low-light periods (morning and evening).
It is taller (30 percent of the total width of the skylight)—which optimizes it for increased light transmittance.
The innovative clear-smooth outer dome / white-prismatic inner dome design provides 100 percent diffusion.
Delivers up to 20 percent more light than our competitor's designs.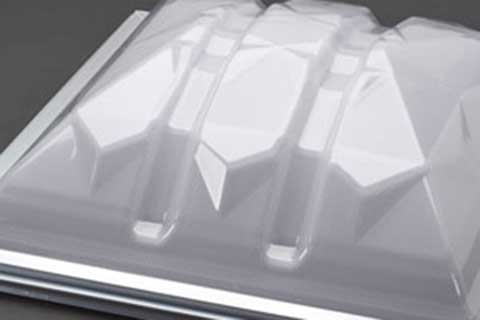 Industry Leading Strength
The repeating pattern of ridges and ribs based on the geometry of an octahedron offers uncompromising strength.
A visually stunning architectural design.
The glazing is engineered from the finest thermoplastic material.
The industry's most robust combination of low-weight and high strength.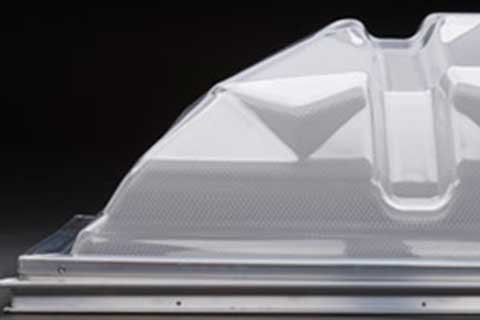 Competitive Market Pricing
VELUX utilizes a high volume manufacturing process.
Reduced freight costs due to the compact nesting nature of the VELUX Dynamic Dome.
Installation costs are reduced due to the dry installation method.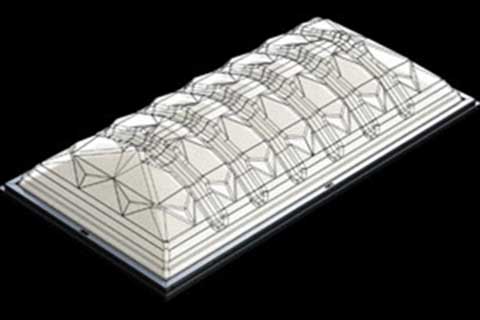 Unmatched Architectural Elegance
Without question, no other commercial skylight on the market can match the unique design and architectural elegance of the VELUX Dynamic Dome.
Superior Water Management
Most commercial skylights allow condensation to collect within an interior gutter.
The VELUX Dynamic Dome utilizes a fail-safe proprietary wicking system that evacuates condensation to the exterior of the skylight.
A one-piece inner frame creates superior durability and eliminates the need for corner welds that can leak.
50-year silicone.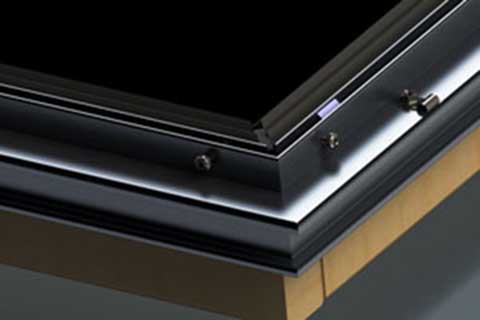 Secure Thermal Seal
An encapsulating design that provides an impenetrable water barrier.
With a 100 percent thermally broken skylight frame.
Interior surfaces are isolated from exterior temperatures. This 'warm design' virtually eliminates condensation.
The secure weather seal to the curb impedes air, water, and bug infiltration.
Product Data Attn: Architects