Protecting the People
Replacing skylights that are installed over large areas, such as an atrium in an office building or a mall, begins with scaffolding solutions planning on how to protect the public and keep the job site safe for the workers while the replacement is under way.
Many times a one story scaffolding "tunnel" that the public walks through to access other parts of the building is adequate. However, there are scenarios where the work requires major structural changes to the building  and a platform directly under the skylight structure is needed to remove the old structure and re-install the new structure and skylight.
Budget Friendly Options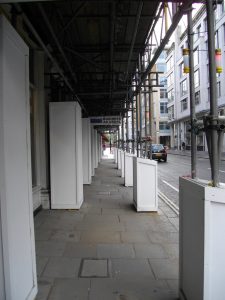 Part of the planning process includes finding the lowest cost solution. Many skylights, such as in a high-rise building are hundreds of feet above the floor. Installing scaffolding "towers" up to the skylight level solves the safety problem for the public and for the workers but can be very expensive.
Another scaffolding solution is to span the opening with structural framing components and decking the framing to create a floor. But again, sometimes that does not work because the opening is wider than available structural framing, there is no framing material made that long.
Wide Span Issues
Unfortunately, most shopping malls, hotels, or other large structures with a covered courtyard pose a issue. Building scaffolding up fifteen to twenty stories (or more!) is prohibitively expensive and disruptive to customers, but its also impossible to span the opening with standard scaffolding solutions materials.
Steel beams are the answer, but how do you install a steel beam with equipment a hundred feet in the air on the inside of a building?
The answer is simple, but unusual. It is possible to remove just enough of the skylight to crane in a beam vertically. Then pivot the beam horizontally and set it into place. Framing beams can now be installed on this steel beam and a floor can be built hundreds of feet in the air without having any unsightly  and expensive scaffolding towers. Most contractors don't have the know-how or experience to implement this technique, as it can be tricky to pivot it without damaging any of the structure.