Skylight Inspection/Certification
An onsite skylight survey and inspection will be made by Skylight Specialists, Inc.
Represented by Josh Hannon
Skylight on site: One large structural ridge over atrium.
Skylight Manufacturer: Custom Builder
1. Skylight Manufacturer: Custom Builder
One (1) 55′ wide x 73′ long glass ridge structural 80's era skylight.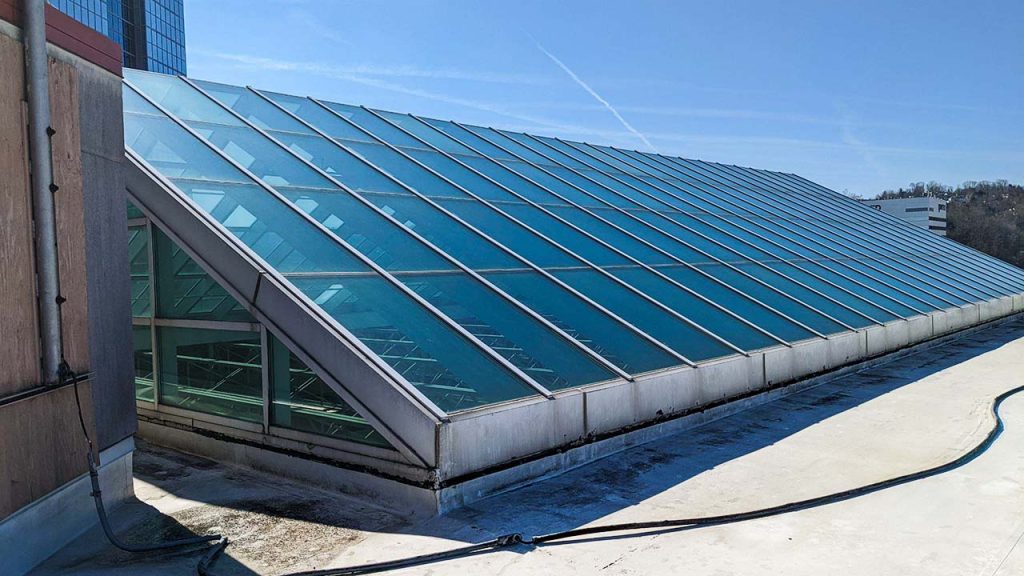 Glazing: Clear, glass, dual glazed, fall protected
Structure: Adequate spacing and size structural aluminum frame.
Anchors: Adequate anchor size and count around perimeter.
Curbs: Adequate height.
Rating: (1-10 scale) 6.5
Expected Life Span: 1-3 years.
Evaluation: Skylight Specialists identified nine (9) total sections of glazing to replace due to seal failure. The system itself is in acceptable condition but glazing must be replaced.
We recommend:
As you may have guessed, full replacement of failed glazing was our recommendation. Our crew proposed to replace all nine (9) sections over a 3-day span with the help of a crane to get the new glass on the eleven-story roof.