Available for work in Colorado and Coast to Coast — It all starts with a simple phone call.
1-866-759-7732
Downpours from Tropical Storms Cause Massive Leaks in Glass Skylights
Mall of Louisiana is a mid-scale shopping mall in Baton Rouge, Louisiana, and is located between I-10 and Bluebonnet Blvd.
Built in 1997 by developer Jim Wilson & Associates which also built the Riverchase Galleria in Alabama, it is the largest mall in Louisiana and is currently owned and managed by General Growth Properties. It contains the second largest indoor carousel in the world.
It is currently one of Baton Rouge's two regional malls, with the other shopping destination being the older Cortana Mall.
With more than 170 stores and services, the anchor tenants are Dillard's Men's Children's & Home, Dillard's Women's, JC Penney, Macy's and Sears.
General Growth Properties had an emergency skylight repair need and asked us to mobilize on this project immediately because their glass skylights leaked badly and the major tropical storm Lee was headed in their direction.
What We Did:
A broad tropical disturbance over the Gulf on September 1,2011 was designated as Tropical Storm Lee the next day. Due to the large size, as well as the slow forward movement of the storm, heavy rainfall occurred in southern Louisiana, Mississippi, Alabama, and the Florida panhandle.
Lee was the first subtropical or tropical storm to make landfall in Louisiana since Hurricane Gustav in 2008.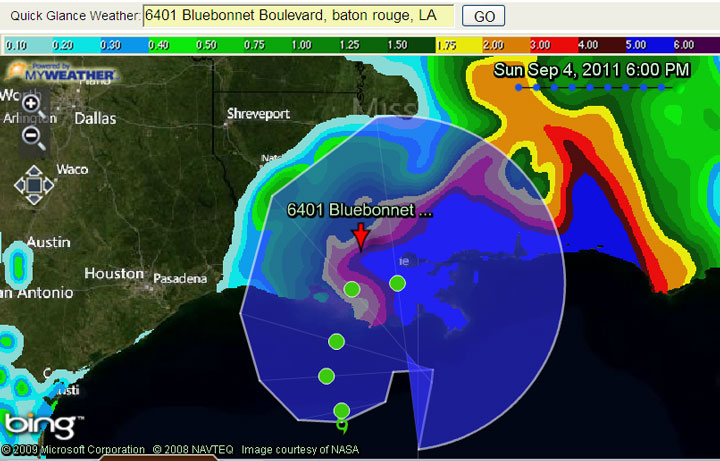 We provided a crew that arrived on site within days and provided emergency skylight repairs to the worst leaking skylights prior to the arrival of the storm.
Wet seal one barrel vault skylight, added two more barrel vaults skylights as a change order.
Product Used:
Results:
The mall survived the hurricane and the managers were very pleased with the emergency skylight repair because they assumed there was no way we could get there in time.
Benefits:
Leakproof skylights are always appreciated, especially with the volume of water that drops in from a hurricane.