Available for work in Colorado and Coast to Coast — It all starts with a simple phone call.
1-866-759-7732
Single Section Glazing Replacement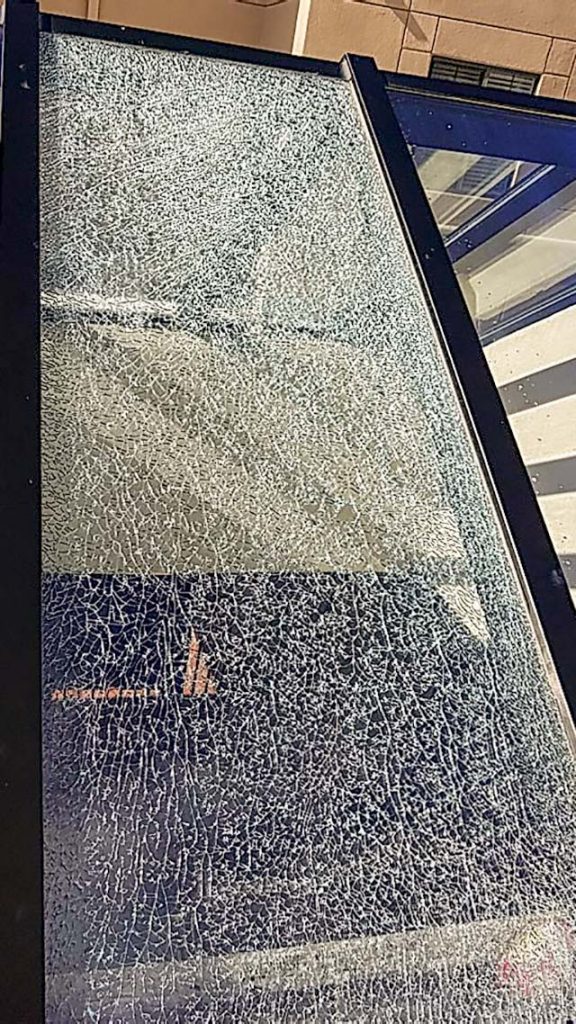 The Hyatt House, located in the Denver Tech Center, noticed damage to their existing ridge skylight and called us for repair. Spanning 10.5′, the existing daylight system is made up of eight (8) sections of glazing, broken into sections of four (4) on each side of the ridge-line.
Our initial inspection found completely shattered glass within one section of the skylight. That existing glazing was tempered over laminate glass, which is designed for safety purposes. As you can see in the picture, the glass broke into a bunch of smaller pieces instead of larger sharp shards. The design worked as intended in this case, as the laminate glass held in place ensuring those smaller pieces didn't fall through.
Matching Existing Glass
With existing skylights, there's several things we evaluate to determine the best course of action and the results of that evaluation dictate whether repair is possible or replacement is necessary. The type of framing and the way its installed are part of the consideration. In this case, we were fortunately able to re-use the existing aluminum framing system. The sections of glazing are accessible with removal of "beauty-caps" which can be re-installed in most cases.
Our next step is finding a suitable replacement that matches the other sections of glass while still providing the safety and light transmittance needed.
For this project, a heat-strengthened tempered over laminate glass fit the bill. The 2.5′ x 6′ piece of glass is replaced within an afternoon by just a couple of our technicians.