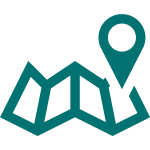 Extreme fiber blooming creates need for new Quadwall polycarbonate retrofit.
This building is part of the City of Loveland Water and Power facility. The building's skylight has degraded to the point that replacement is the only option. While there is some yellowing, the major problem is fiber blooming.
Fiberglass skylights are protected from the elements by a coating sometimes referred to as "gel coat". The coating has a UV blockage component to help prevent the sun's rays from damaging the fiberglass and causing fiber bloom. The gel coat is subject to  degradation, and as it does so, the glass fibers come to the surface and "bloom".
What We Will Do:
Replace the existing Major Industries fiberglass skylight with a CPI Daylighting polycarbonate skylight.
Product Used:
CPI 4″ Quadwall Single Slope Skylight.
11.92′ odc x 270.00′.
Results: