Available for work in Colorado and Coast to Coast — It all starts with a simple phone call.
1-866-759-7732
A wild hail storm
The Cheyenne Mountain Zoo was hit by a wild hail storm on August 6, 2018 that injured 14 guests, killed two zoo birds and severely damaged an estimated 400 vehicles in the parking lot. Many of the animal exhibits have skylights, which were hit so hard by the hail that all received damage.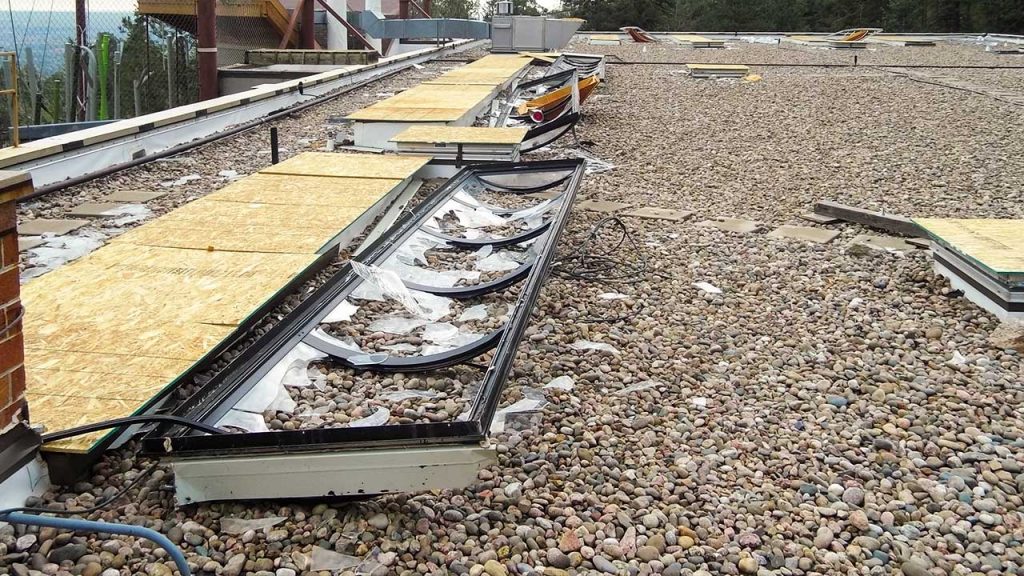 Emergency covers were required.
At the request of Rocky Mountain Construction, our crews were on site for several days to provide emergency covers for dozens of skylights.
Many more skylights were covered, including the Primate World, the Elephant House, the Lion Building, the Mountaineer Sky Ride, the Chicken House, the Tree Kangaroo exhibit, and others.
Translucent, semi-permanent covers for the Administration Building.
After the first round of emergency plywood covers were installed, we returned to the Admin Building and installed translucent covers in order to provide better lighting for the employees. Over 100 4×8 sheets of twinwall polycarbonate were used.
The Black Rhino Overlook: