General Contractor: Skylight Specialists, Inc.
Available for work in Colorado and Coast to Coast — It all starts with a simple phone call.
1-866-759-7732
The cluster skylight over the hotel atrium is in poor condition.
Numerous issues were noted during the inspection including cracked and patched domes, frames separating at the corners, and many attempts to prevent leaks from failed seals.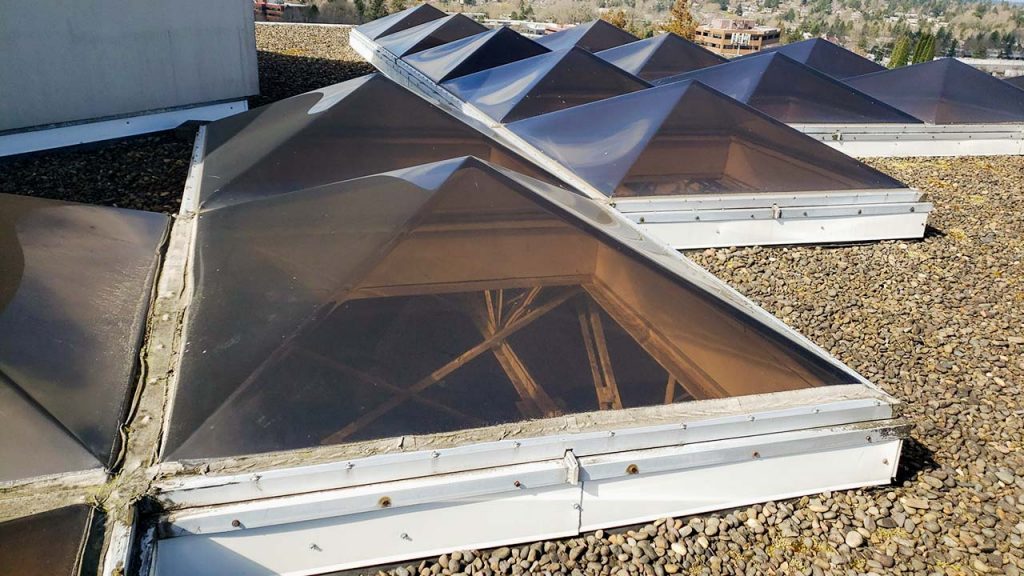 What we will do:
WET SEAL ENTIRE SYSTEM: Scrape, clean and wet seal all 56 acrylic dome skylights 6.5' x 6.5' each. (2366 SF)
REPLACE: Five – 6.5' x 6.5 pyramid bronze acrylic over clear lenses with like for like. Provide 1 additional lens for hotel to keep on hand.
SAND AND PAINT: Remove and paint areas of wood curbs on interior where stains and discoloration are showing.
CLEAN INTERIOR RAFTERS: Safely and carefully work to clean the built up dirt and dust on the framing system underneath the ceiling.
Work is in progress.
Replacing one of the dome sets:
Our original inspection revealed five domes cracked or broken, but during the work, two more failed domes have been found.
Wet sealing the system:
A wet seal involves cleaning the old caulk from the system, then masking and applying new structural, silicone sealant.
Cleaning and repainting:
Tarps are hung below the skylights to protect the lobby and dining areas from debris and paint splatter.