Available for work in Colorado and Coast to Coast — It all starts with a simple phone call.
1-866-759-7732
The Reel Factory has had problems with ten acrylic dome skylights for years.
Skylight Specialists, Inc. was asked to provide a proposal for the Reel Factory, a Goldberg Brothers, Inc. company, two years ago. The ten skylights had surpassed their useful lifespan and they wanted to do something about excessive heat gain.
We proposed replacing the outdated skylights with VELUX FCM (Fixed Curb Mount) skylights with Clean, Quiet and Safe Glass. This low E3 glass has an excellent balance of reduced heat gain to visible light transmission and is Energy Star rated.
VELUX Clean, Quiet and Safe Glass.

Clean: Neat® glass coating keeps your skylights cleaner longer, leaving skylights virtually spotless!
Quiet: Reduce unwanted outside noise by up to 25% less than a standard double pane glass, and up to 50% less than a plastic skylight.
Safe: VELUX recommends and building codes require laminated glass for out of reach applications.
The Process:
Mounting the skylights with a pitch allows the Clean coating drain precipitation to the roof, keeping the glass nearly spotless.
The Results:
Our first concern was to stop the leaks. We performed a temporary re-seal and obtained the necessary measurements for the upcoming retrofit. This gave the company time to address budgetary and schedule concerns. And us time to work with the manufacturer on the engineering concerns. Two CPI Daylighting translucent Quadwall skylights were designed, engineered and delivered. Installation went off without a hitch at the company's schedule. Two days on site, one a Saturday, with minimal disturbance to the occupants.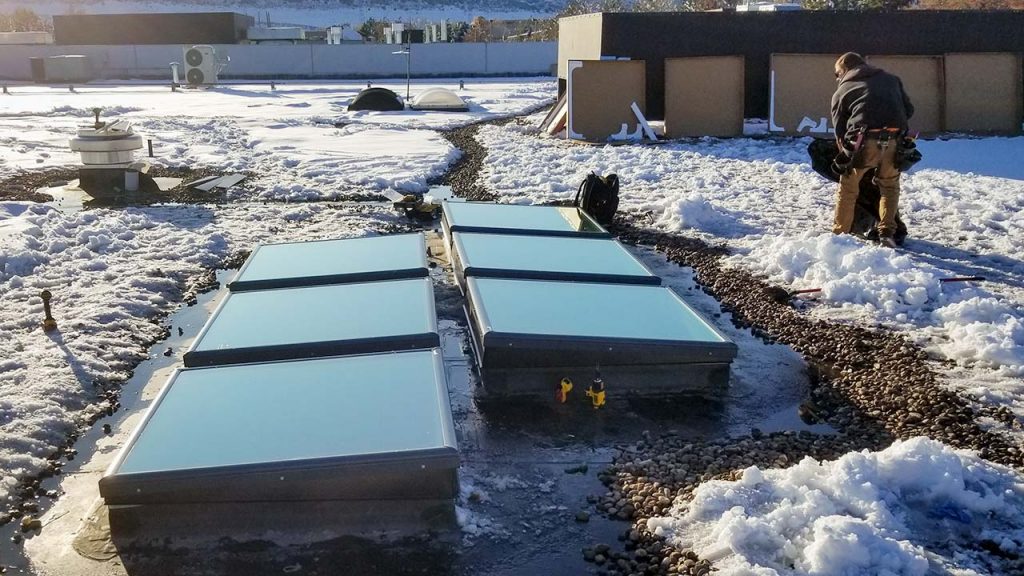 Product Used:
Ten VELUX FCM Fixed Curb Mount (49 1/2" x 49 1/2") skylights.
Ten year No Leak warranty on the entire installation including glass breakage from hail up to 2″ in diameter.