American Heritage Building, Laramie, WY Skylight Replacement
Problem: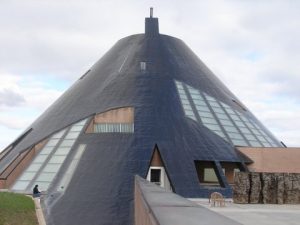 A unique shaped building has unique problems to solve concerning keeping water out and in this case humidity in. This re-roof project requires the skylights to be removed and re-installed at the new roof elevation. All skylights are wedge-shaped and of different sizes. Some of the skylights are very narrow which can be a problem if the structure of the skylight uses up all the space available for aluminum instead of glass. Measuring the openings for skylight retrofits can be very tricky as you need to remove the existing skylight before measuring for the new skylight but you can't remove the old skylight until you have the new one ready to go in. Classic Catch-22 scenario. And, in this case, there is not enough time to take measurements and get the new skylight manufactured in time, a process that can take up to 4 months to get the product on site.
Solution:
The existing skylights were not in any condition to re-use and the design for supporting new skylights within the openings was inadequate. The solution was to mount the glazing system outside the opening, allowing for more glazing and therefore better daylighting. Because we offer a nearly flush mount glazing extrusion and because the product is in stock, we were able to provide a solution that satisfied all concerns. Additionally, we are able to provide a custom color and finish to match the metal roofing material.