QUADWALL – QUAD GLAZED TRANSLUCENT INSULATED WALL-LIGHT
Removeable Skin Technology
Extend Your Building Envelope Performance and Longevity!
QUADWALL STANDARD SKYLIGHT PANEL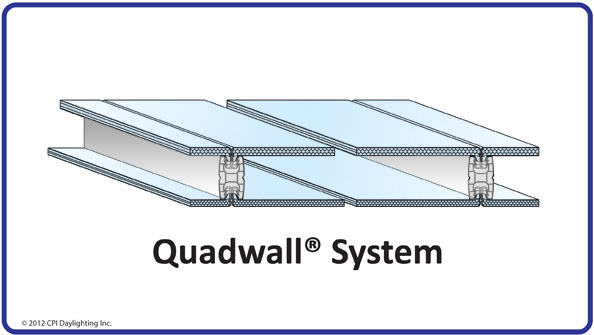 Quadwall® is an assembly of TWO INDEPENDENT translucent INSULATED SINGLE panels, forming one integrated high-performance daylighting system.
The exterior and interior insulated single panels are connected with concealed connectors.
The interior insulated panel is ALWAYS shielded from outside weather conditions, UV radiation, impact and other hazards.
Each translucent single panel, both exterior and interior, is available in a wide range of colors, finishes, thermal performance and thicknesses.
Quadwall® panels are available in thicknesses of 2.75″ and 4″ with uninterrupted lengths of up to 44′ long.
Insulation value for the standard Quadwall® panel is 0.23 per NFRC 100, as mandated by building codes (tested, certified and labeled per NFRC).
QUADWALL LONG-SPAN WALL-LIGHT PANEL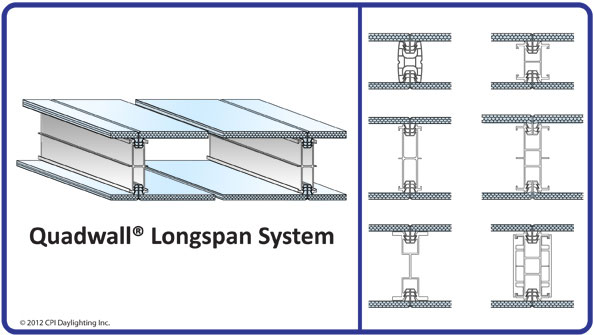 The Quadwall® self-span capability is increased with the addition of concealed aluminum H connectors. A wide range of aluminum H connectors are available to maximize spanning performance. The double tooth grip-lock design of the H connector and glazing panels provides a secure and durable 2 panel assembly. The system includes a built-in internal gutter under the exterior panel that ensures drainage in isolation from the interior panel.
The Quadwall® Long-Span can be designed to span from 6′ to 14′ long, based on the required design load.
Quadwall© Long-Span optimizes the design of the supporting structure, resulting in cost savings over single insulated panels.
Quadwall® can be configured for compliance with the DoD Antiterrorism Standard for Buildings, UFC4-010-01, 2/9/2012
Also Available Through the Direct2Fab Program
Direct2Fab is a fast delivery program for custom sized wall-lights.
Each D2F project moves directly from order entry to the fabrication floor. CPI's proprietary automated D2F engineering system essentially replicates the same methodology and heuristics employed by engineers using computerized technology. D2F automation eliminates weeks of engineering and submittal time, allowing CPI to provide custom sized wall-lights at the same cost as standard sizes.
Any length with a maximum height up to 12′.
Delivery times for Custom Daylighting Systems as short as 3-8 weeks.
Available panelized with vertical mullions or flush look with no vertical mullions.
D2F Wall-Lights are designed for 40 psf wind load
Standard manufacturer submittal package.
Wyoming National Guard JOINT FORCES READINESS CENTER | Cheyenne WY
The FMS building earned LEED® Silver Certification, and the JFRC has earned LEED® Gold Certification. Some sustainable features of this project include a horizontal geothermal system, extensive daylighting (including a translucent wall lights installation), construction waste recycling, water-efficient landscaping, lighting controls and enhanced commissioning. Part of the new building is lit by natural daylighting in the form of a wall lights installation instead of skylights.
JF READINESS CTR – Cheyenne, WY — Skylight Specialists Inc.