REMOVEABLE SKIN TECHNOLOGY – THE POWER OF TWO INDEPENDENT GLAZING PANELS IN ONE UNITIZED HIGH PERFORMING ASSEMBLY
TODAY'S MOST VERSATILE, HIGH PERFORMANCE, COST EFFECTIVE INSULATED TRANSLUCENT UNITIZED DAYLIGHTING SYSTEM!
Translucent Walls
Extreme versatility
The extreme versatility and unitized assembly of the UniQuad® system makes it the perfect system for walls and building facades. This system is also effective for clerestories and smaller scale punched openings.
Modular Aesthetics
UniQuad's sleek, linear aesthetic and modular construction enable the system to be easily integrated with other building envelope components.
Creative Options
With a wide range of colors, and the potential for incorporating graphics and lighting, UniQuad offers designers the opportunity to rethink daylighting in a creative and inspiring way.
Unitized Insulated Translucent Building Envelope Solutions
The hallmark of the UniQuad® system is the innovative two piece panel connection, which enables the system to be unitized. The panels themselves are factory glazed and assembled for superior quality control.
The unitized construction of the system results in quick, cost-effective installation.
Panel Clip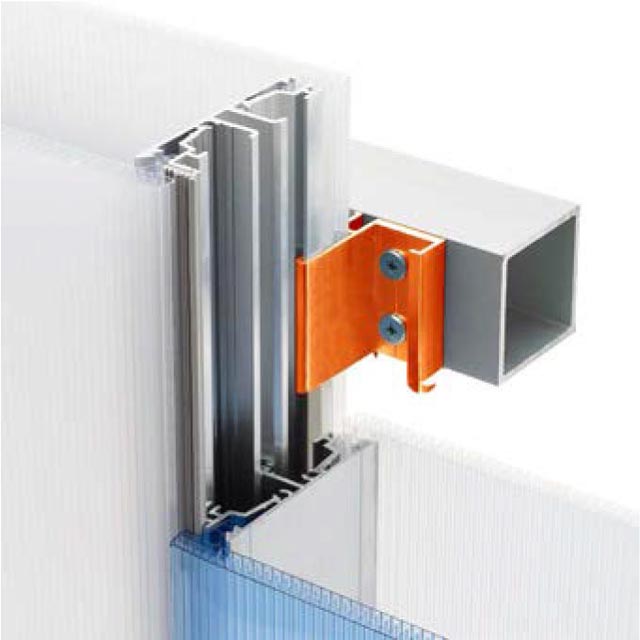 The panel clip fastens directly to the internal UniQuad® structure, which prevents the glazing from breaking under extreme clip loads, as is common with other systems. The metal-to-metal connection enables the glazing to freely expand and contract. It also increases the system's ability to withstand high loads and span floor-to-slab.