The Daylighting Dilemma
How to receive all of the sunlight you want while avoiding unwanted solar heat gain and managing daylighting glare.
Sunlight transmits solar heat.
Solar heat inside the space is generally correlated to:
Light transmission.
Solar Heat Gain Coefficient (SHGC) values.
The size of the glazing area in relation to the space.
Passive skylights and windows can deliver too much solar heat on hot sunny days and during peak sunlight hours, or too little on winter days.
With no control over high energy cost, glare, or shading, most passive daylighting designs are compromises resulting in a failure to manage daylighting benefits.
Dynamic daylighting systems empower architects with greater design flexibility and protects them from potential design mistakes related to the glazing selection or the size of the glazing area.
CPI Daylighting IntelaSun®
Controlled Daylighting delivers the exact daylight amount you want – no more, no less. Intelligent SolaBlades® within the glazing panels gauge the sun's position in the sky, and then dynamically manage the desired sunlight, solar heat, and sun‐shading inside the space.
IntelaSun® Systems provide more daylight in the winter, morning, late afternoon and on dark gloomy days, and less daylight in the summer and peak sunlight hours.
The SolaBlades® can be set to deliver direct or diffused sunlight.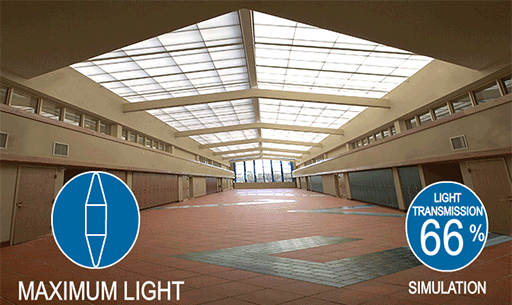 By angling the sunlight that penetrates the space, the SolaBlades® make use of the physical fact that light hitting at an angle delivers less energy per square foot than direct sunlight.
A sun-tracking sensor also allows alignment of the SolaBlades® to an optimal position in relation to the sun's position in the sky, to harvest daylight that would otherwise be lost due to the low incident angle of the sun early and late in the day.
Case Study | El Paso County Coroner's Office
2741 E Las Vegas St
Colorado Springs, CO
Problem:
The coroner's office needed a way to utilize daylight from vertical glazing without problems created by glare. The east facing opening created additional problems with the variations in the amount of daylight throughout the day and the changing of the seasons.
Solution:
By using pre-assembled SolaQuad panels from CPI Daylighting the occupants have a great deal of control over the quantity and quality of the light entering the space. A wall controller provides the user with manual or fully automated management of daylighting levels for optimal performance. CPI Daylighting's advanced translucent glazing technology ensured that the building envelope was covered by an insulated translucent panel system that provides unequaled durability and daylighting performance, supplies all the daylight desired without glare and avoids unwanted solar heat gain.
Correct daylighting and solar heat levels required for the space—increased energy savings
Healthy, natural daylight in the space with soft translucent light and accurate color rendition
No required maintenance or re-coating costs—individual exterior panels are easily replaced.
In work environments, increased daylighting has been shown to increase productivity
All Daylighting