NON-STRUCTURAL GLAZING SYSTEM
NEARLY ANY SIZE OR SHAPE SKYLIGHT — MULTIPLE GLAZING OPTIONS.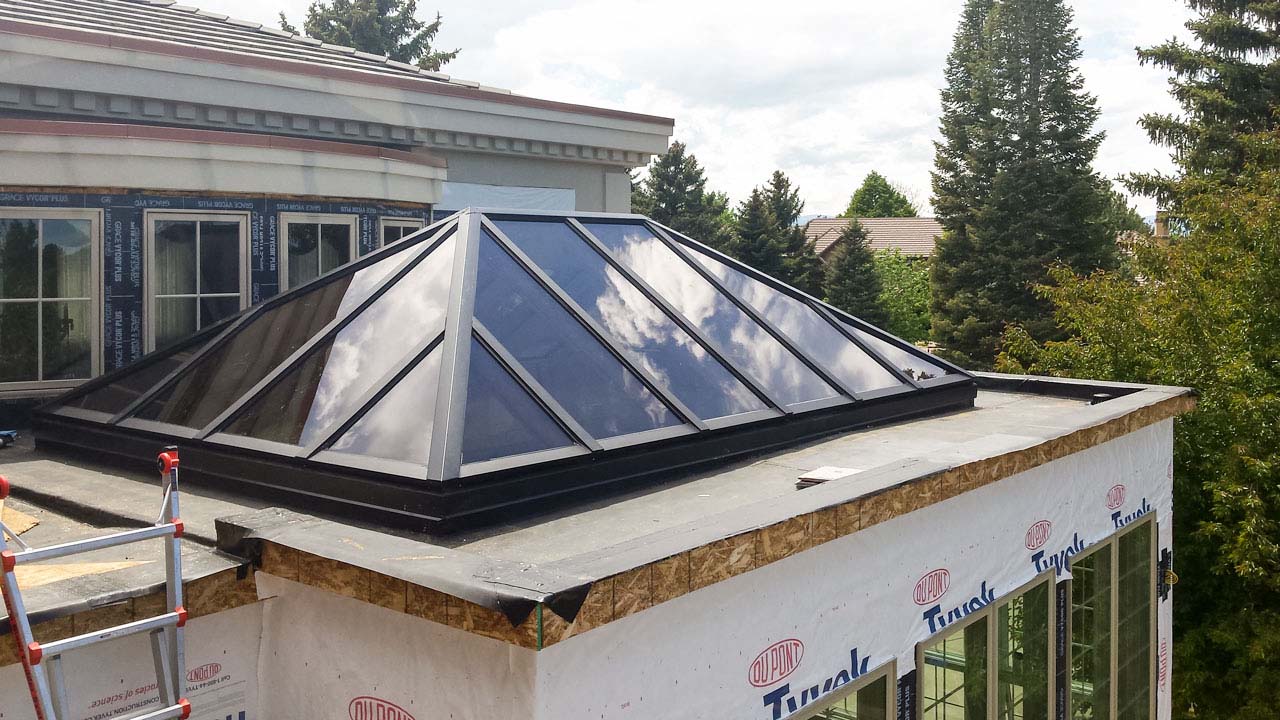 Learn how MAGS BAR can fit your project.
It all starts with a simple phone call.
From Small to Large—MAGS BAR Can Fit Your Opening
Standard Aluminum Finish is Class 1 Black Anodized. Custom colors are available with an upcharge.
The bar is designed as a clamping system that sandwiches glass or other glazing between two bars. The top pressure bar is capped to give it a seamless look.
MAGS BAR Features
An aluminum glazing system—lightweight, but very strong.
Custom built to fit the desired opening.
Neoprene glazing seals and thermal break that have survived the test of time.
Thermal break and built in gutter to control condensation.
Flush glazing system for sill to avoid unsightly dirt lines.
Maintenance free (no peeling paint or warping wood).
Attractive black anodized aluminum—can be powder coated any color.
Low profile—blends into roof line.
Five Year Leak Proof Warranty when installed by Skylight Specialists, Inc. trained technicians.
Glazing choices are nearly limitless:
Translucent, clear | glass, acrylic, polycarbonate | single wall, double wall, multicell construction | coated | tints.
More MAGS BAR
MAGS BAR Site Built Skylight | Landmark Homes | CO 80111

THE SITUATION:
The contractor came to us and said "I have an opening in the roof and a customer who handed me a picture she wants to duplicate. "What can you do? Can we make her dream happen?"
THE SOLUTION:
We had no problem designing a hipped ridge skylight for the opening. The rafters were cut and installed. Then, using our own MAGS BAR, we installed the base framework; measured, ordered and installed the glass; and finished off the project with beauty capping and flashing.
Dream realized!
MAGS BAR Skylights | American Heritage Center |

Laramie WY

THE SITUATION:
The design for supporting new skylights within the openings was inadequate. Most of the skylights are wedge-shaped and of different sizes and some are very narrow—requiring minimal structural elements in order to maximize glass area.
Prefabrication of the skylight was not an option for two reasons—this facility must remain open to the public and time constraints could not be met.
THE SOLUTION:
We were able to mount the framework outside the opening—for more glazing and better daylighting. Site built fabrication allowed us to provide a nearly flush mount glazing extrusion in a custom color and finish to match the metal roofing material. It also allowed us to meet the time constraints, coordinate with the new roof construction, and keep the openings weatherproof and safe to the public below during the installation.