The Most Insulated TopLite Available Today – Better Than Triple Glazed Acrylic Unit Skylights!
Pre-assembled unit skylight — sizes up to 7′ wide by up to 23′ long
Standard Features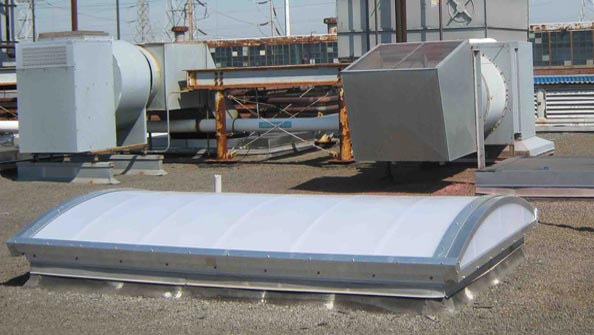 Technical Data
BEST RATIO OF INSULATION TO LIGHT TRANSMISSION FOR COST EFFECTIVE PERFORMANCE.
Custom sizes at the same cost as standard sizes.
Wide range of interior and exterior glazing colors.
Pre-engineered – custom sizes using D2F automation.
Delivery of custom systems in just 3-8 weeks.
All the advantages of state-of-the-art Quadwall glazing.
Aluminum finish options: CPI CRF Paint, Anodized, Kynar.
Economical sustainability and green construction.
Direct2Fab program or custom design options.
Quadwall® TopLite Unit Skylights
Available Through the Direct2Fab Program — a fast delivery program for custom sized skylights.
Each D2F project moves directly from order entry to the fabrication floor. CPI's proprietary automated D2F engineering system essentially replicates the same methodology and heuristics employed by engineers using computerized technology.
D2F automation eliminates weeks of engineering and submittal time, allowing CPI to provide custom sized wall-lights at the same cost as standard sizes.
Vaults, Ridges, Pyramids and Single Slope or a custom submittal.
Up to 7′ wide by up to 23′ long
Direct2Fab program delivers custom sized skylights in just 3-8 weeks.
Standard design for 30 psf live load, 40 psf wind uplift and 25 psf downward wind loads. Custom load is available.
Durable Quadwall® 2 panel glazing assembly provides superior energy performance.
Standard manufacturer submittal package.
Also available as a custom design for specific performance or loading requirement with a custom submittal.
Email