EXTRA DAYLIGHTING WITH MORE THAN DOUBLE THE INSULATION OF ACRYLIC UNITS
Oversized Low Rise Vaults with Anti-Glare Diffuser (TPL-4)
OVERSIZED UNIT SKYLIGHT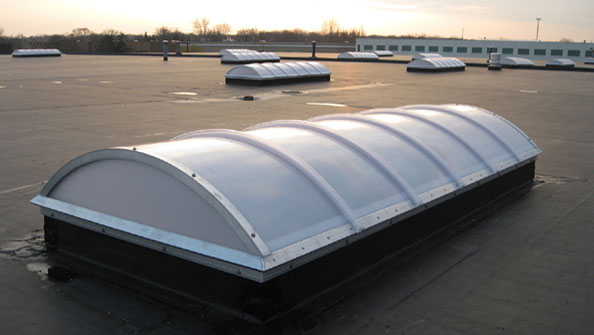 Available only via the Direct2Fab program.
Standard manufacturer submittal package TPL-4 for TopLite MegaSky unit skylights.
Oversized unit skylight glazed with 12mm Pentaglas®.
Includes a built-in flat diffuser panel below for unique interior look, high insulation and excellent diffusion.
Provides a U-value of 0.24 with light transmission of 52% for clear glazing or 38% for ice white glazing.
Pre-assembled MegaSky unit skylights are offered in standard sizes: 4′ or 5′ widths and 10′, 12′ or 14′ lengths.
Designed for high performance 90 psf live loads and 200 psf wind uplift loads.
Standard Features
BEST RATIO OF INSULATION TO LIGHT TRANSMISSION FOR COST EFFECTIVE PERFORMANCE.
Direct2Fab program delivers custom sized skylights in just 3-8 weeks.
More than double the insulation of a double glazed acrylic unit skylight.
MegaSky Units are oversized to maximize daylighting per opening.
Reduces number of skylight roof penetrations, curb costs and associated construction costs.
High impact resistance, 500 ft-lb impact loading and 350 ft-lb missle impact.
All the advantages of Pentaglas® Nano-Cell® glazing
Free email consultation with price ranges for options.
Email