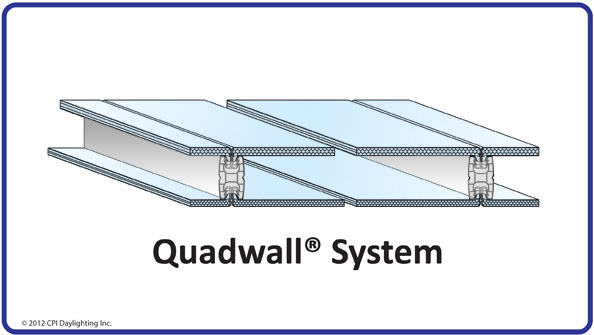 Product Type

Polycarbonate Quad Glazed Panels

Available For

Insulated Skylights
Insulated Wall-Lights
QUADWALL STANDARD SKYLIGHT PANEL
RST – Removable Skin Technology
EXTEND building envelope longevity. The interior panel is always shielded.
RAINSCREEN PRINCIPLE – Equilibrium of air pressure between the outside and inside of the "rainscreen" prevents water penetration into the building itself.
REPLACE exterior glazing panel without exposing the building's interior.
INCREASED control over light and solar heat gain, glazing colors and insulation values.
ENERGY EFFICIENT – Provides the best ratio of insulation (U-Factor) to visual transmittance (VT%).
HIGH PERFORMANCE DAYLIGHTING – Glare-free diffused daylighting.
AESTHETICS – Internal panel structure allows for a flush, modern look on the exterior.
Technical Data
Quad Glazed – U value of 0.23 with Light Transmission of up to 52%.
NFRC tested and certified for U value and SHGC.
Anti-glare and diffused light meets and exceeds energy code requirements.
Best ratio of insulation to light transmission for cost effective performance.