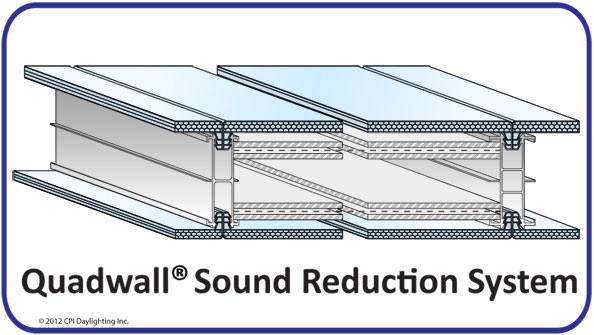 Product Type

Specialized Polycarbonate Quad Glazed Panels

Available For

Insulated Skylights
Insulated Wall-Lights
QUADWALL® Special Sound Reduction Panel
Translucent Wall Panels with Superior STC Rating of 32-43
Outdoor-Indoor Transmission Class (OITC) rating from 32 to 29.
All the benefits of a Quadwall® 2 panel translucent daylighting system.
Wide range of colors and matte finishes on the interior glazing panel.
Panelized into modules of 4′ or 6′ for ease of installation
Insulation values ranging from 0.10 to 0.16.
Quadwall® translucent panels with custom inserts to reduce sound transmission for enhanced STC ratings needed for special applications.
The sound reduction inserts are light transmitting – maintaining the highest possible ratio of light transmission to sound reduction performance.
The thermal insulation U-value is also enhanced by the custom inserts used in the Quadwall® Sound Reduction panel system.
Quadwall® standard panels come in a wide range of colors, and matte finish glazing is available.