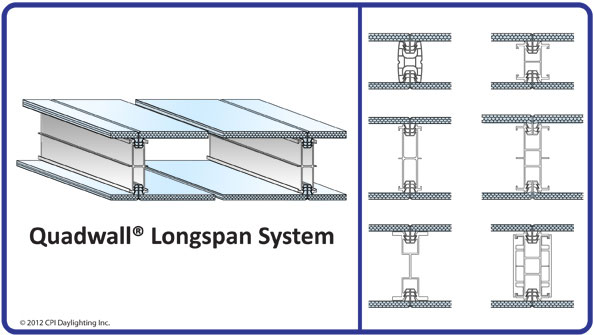 Product Type

Specialized Polycarbonate Quad Glazed Panels

Available For

Insulated Wall-Lights
QUADWALL LONG-SPAN WALL-LIGHT PANEL
The Quadwall® self-span capability is increased with the addition of concealed aluminum H connectors.
A wide range of aluminum H connectors are available to maximize spanning performance.The double tooth grip-lock design of the H connector and glazing panels provides a secure and durable 2 panel assembly.
The system includes a built-in internal gutter under the exterior panel that ensures drainage in isolation from the interior panel.
The Quadwall® Long-Span can be designed to span from 6′ to 14′ long, based on the required design load.
Quadwall© Long-Span optimizes the design of the supporting structure, resulting in cost savings over single insulated panels.
Quadwall® can be configured for compliance with the DoD Antiterrorism Standard for Buildings, UFC4-010-01, 2/9/2012
Quadwall® Long-Span panels come in a wide range of colors, and matte finish glazing is available.