BriteWay™ — Custom Suspended Translucent Light Shades
No Support Columns to Obstruct Pedestrian Traffic
Provides Shelter Yet Allows Natural Daylight into the Space Below
A Bright Solution For Old Problems
LiteBrow Canopies are a bright solution to the problems inherent in metal canopies—dark and unpleasant industrial appearance, a "closed in" feeling and constant maintenance requirements.
Attractive and Affordable
Translucent LiteBrow Canopies are attractive and affordable systems—Without the high costs and safety concerns associated with glass, acrylic and fiberglass systems.
Pleasant Natural Daylight
Kingspan's Pentaglas® Nano-Cell® glazing technology provides pleasant, diffused natural daylight into the space below the canopy and a durable reliable shelter.
Standard Features:
Standard Modular LiteBrow units are 5′ up slope and 4, 6 or 12 feet long.
Pentaglas 12 or 16 Nano-Cell® standing seam polycarbonate glazing.
Self supporting aluminum single slope framing system.
Aluminum tie rods.
Easy to design – easy to install.
Pre-engineered – modular canopies using D2F automation.
Standard manufacturer submittal package.
Economical sustainability and green construction.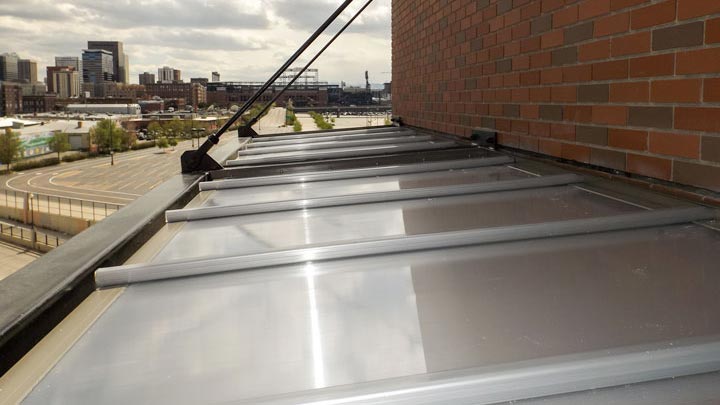 Custom Sizes Available Through the Direct2Fab Program
Direct2Fab is a fast delivery program for custom sized skylights.
Each D2F project moves directly from order entry to the fabrication floor. CPI's proprietary automated D2F engineering system essentially replicates the same methodology and heuristics employed by skylight engineers using computerized technology.
D2F automation eliminates weeks of engineering and submittal time, allowing CPI to provide custom sized skylights at the same cost as standard sizes.
Delivery times for Custom Daylighting Systems as short as 3-8 weeks.
Best ratio of insulation to light transmission for cost effective performance.
Standard manufacturer submittal package.
Cost savings due to the D2F automation process.
D2F program guidelines include design loads, sizes and shapes
Case Study | Coors Field Parking | Denver CO

THE CHALLENGE:
Provide an inviting architectural entry canopy that offers shelter but allows daylighting into the area. Avoid support columns that obstruct pedestrian traffic.
THE SOLUTION:
CPI Daylighting's LiteBrow suspended canopy system. The self-supporting canopy structure, designed for +/- 120 psf loads, is attached to the building with aluminum hanger rods, eliminating support columns that might interfere with elevator traffic.
Pentaglas® Reflective Gray translucent glazing allows natural daylight to brighten the area in front of the elevators while shielding riders from rain and reducing solar heat gain.
See also: