BriteWay™ — A Bright Solution to the Problems Inherent in Metal Walkway Covers
Clearspan an Attractive Translucent Canopy with No Horizontal Crossbeam
Kingspan's pre-engineered computerized design technology provides the most cost-effective system for your project.
The Clearspan concept:
The Clearspan concept eliminates structural horizontal bracing or crossbeam supports that are required for some structural designs.
Undesirable crossbeam bracing introduces limitations such as interference with traffic under the canopy, creating a roosting area for birds and more.
The Clearspan concept, with no horizontal crossbeams, provides an open and modern canopy design with unequaled architectural appeal.
Eliminate problems inherent in metal walkway covers – dark and unpleasant industrial appearance, "closed-In" feeling and maintenance requirements.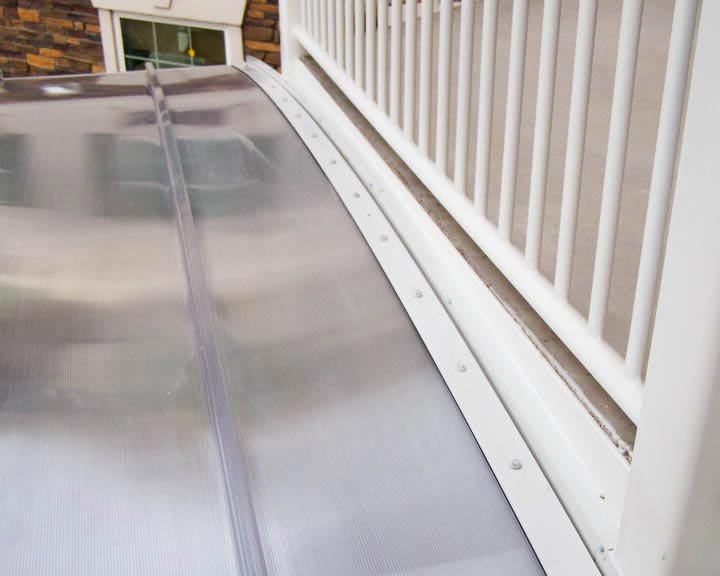 Crown Crest of Parker – Parker, CO — Skylight Specialists, Inc.
THE CLEARSPAN PROGRAM:
Clearspan offers a pre-engineered self-supporting aluminum structure from the ground up.
A Clearspan Translucent Canopy can be from 6' to 24' wide and any length desired.
Typical coulmn spacing is 12′ oc. Other spacings are available.
Typical rafter overhang (cantilever) is 1′ to 3′. Other overhang dimensions are available.
The main side beams can extend over the end column from 7″ up to 48″.
An optional gutter system is available.
Case Study | Crown Crest of Parker |
Parker CO

THE CHALLENGE:
The architects wanted a completely different look to the entry at this new assisted living center. They designed two separate canopies for the entry.
THE SOLUTION:
CPI Daylighting's Clearspan translucent canopy cover allows light into the interior through the front doors and keeps the tenants and guests sheltered from rain and snow.
See also: